Free Email Verifier
We have checked and verified Billions of email addresses for over 100,000 users since we set up.
Sign up today to get 100,000 verification for FREE now. (limited time giveaway, be quick!) Download email verify list sample.
Why to choose
Email Verifier Online
---
Email Verifier Online provides a free, fast, and reliable email checking service. Check every email address you have and reduce your bounce rate.
Single Email Check
Email Verifier Online allows single email address verification in seconds.
Bulk Email Verification
Simply upload your list to verify and clean emails and receive a ready-to-use valid email address list via Email Verifier Online.
Instant Bounce Analysis
Test your data. We will report back after the verification finished.
Free Unlimited Use
After you create a free account on Email Verifier Online, and then you can verify unlimited bulk email lists for totally free.
About

Us
---
Email Verifier Online is a free unlimited bulk email verifier that helps customers to clean their email list online.
Who we are
In nearly 10 years, and prior to establishing Email Verifier Online, we were an Internet software agency. We struggled to find a better way to verify emails and ultimately reach the inbox for our customers. We tried many products and solutions, but were displeased with the accuracy, speed, support, and especially price. Thus, we decided to build a product which can meet all the conditions. Hooray! Email Verifier Online set up successfully!
What started as an internal tool for our agency has grown into a company trusted by over 10,000 users to verify email data. Email Verifier Online devoted himself as a tool to bring benefit to more users and better help our customers reach their clients.
Try Now
Best price-Unlimited Free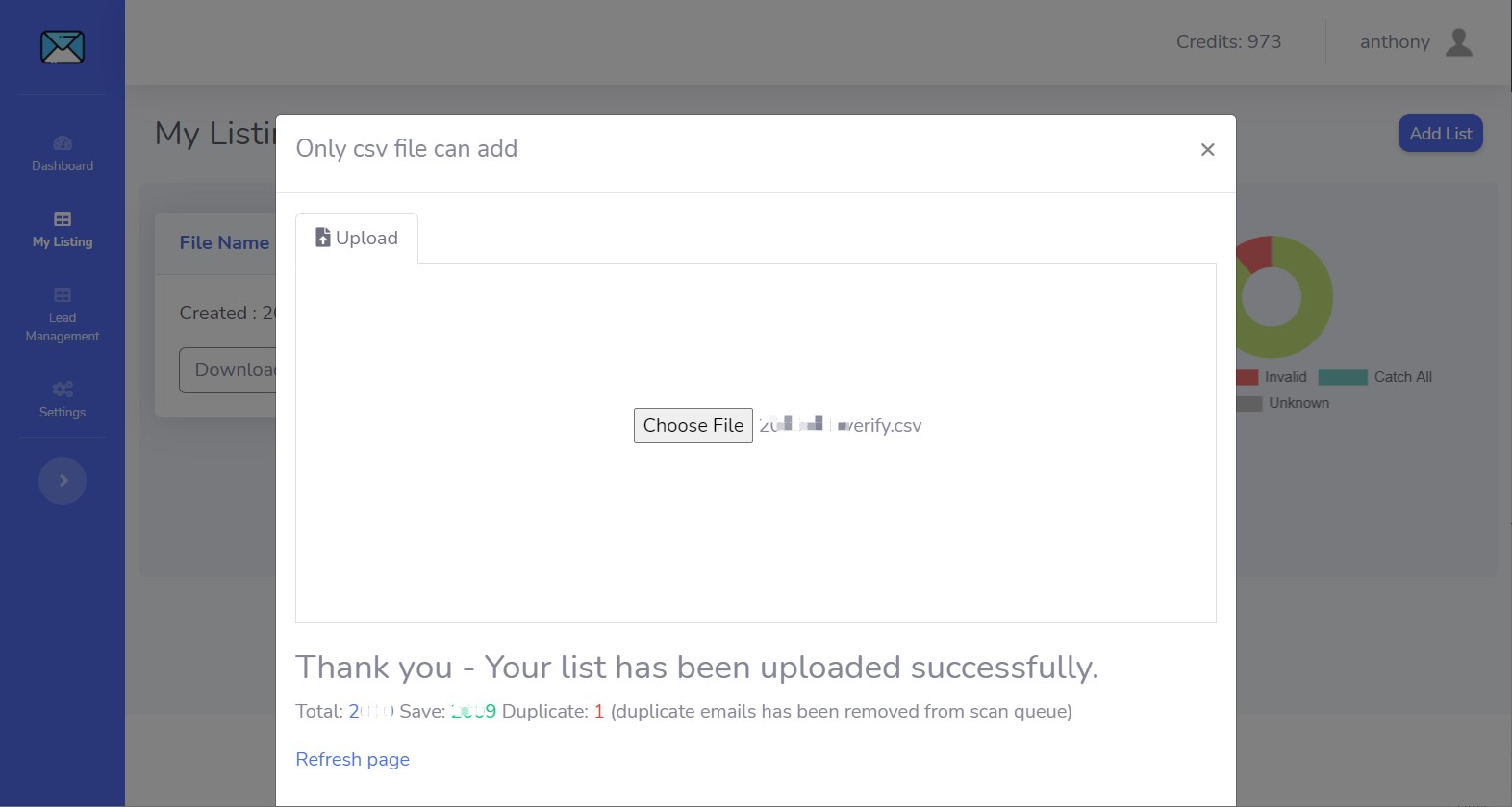 Free Unlimited Bulk Email Verify
Use our unique email verification system to remove invalid addresses from your list and avoid bounces. Keep your list in order to protect your delivery capacity and reputation.
CSV List Upload

Custom Sending Report Download

Remove the Duplicates

Clean Your Bulk List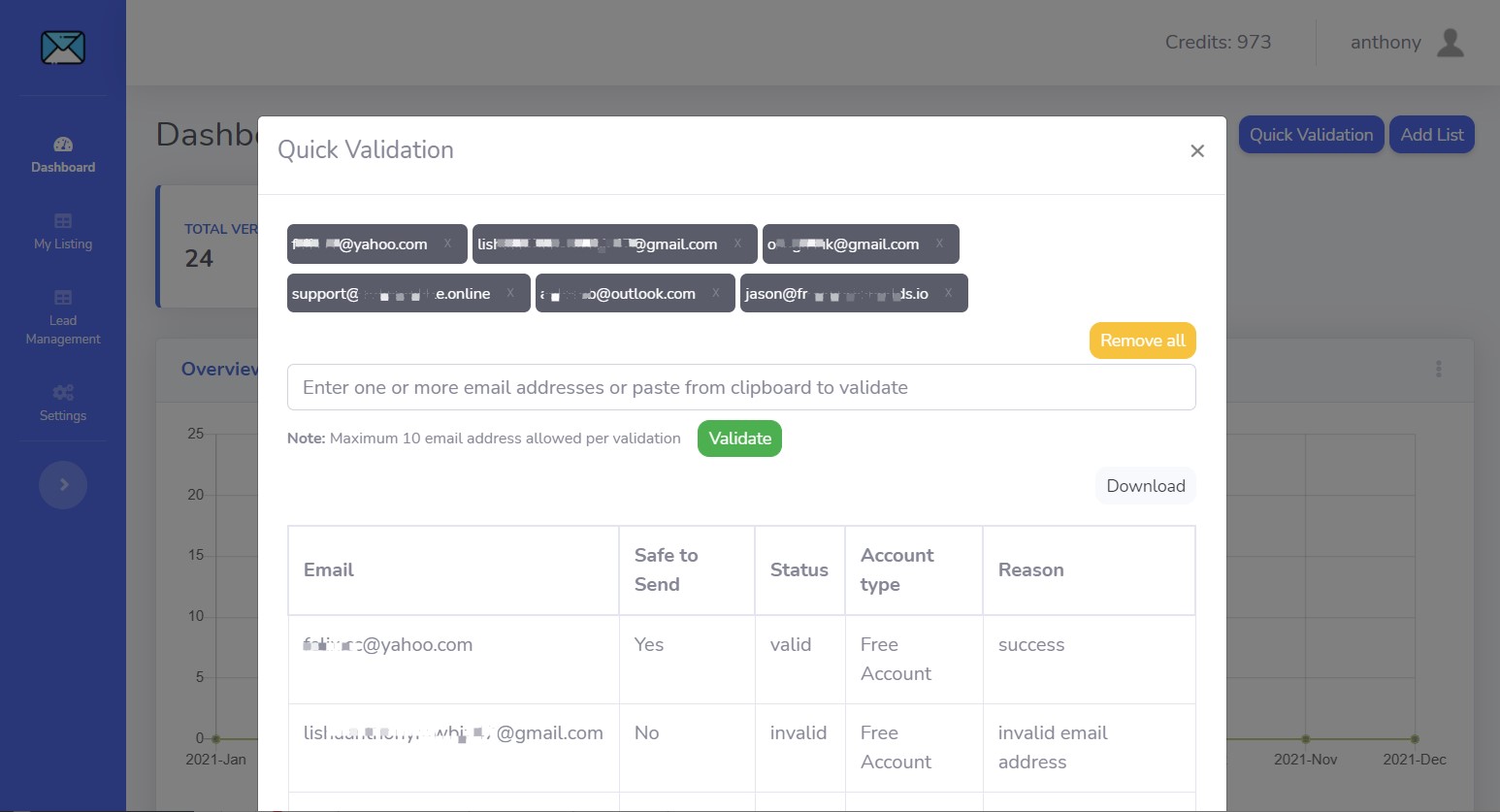 Quick Single Email Verification
Don't lose customers, check email address online before sign up. With our Real-Time Check solution, easily integrate with unlimited platforms.
Real-Time Email Checking

Quick Validation

High Accuracy
our
features
---
Free Email Verifier Online is dedicated to helping customers solve problems.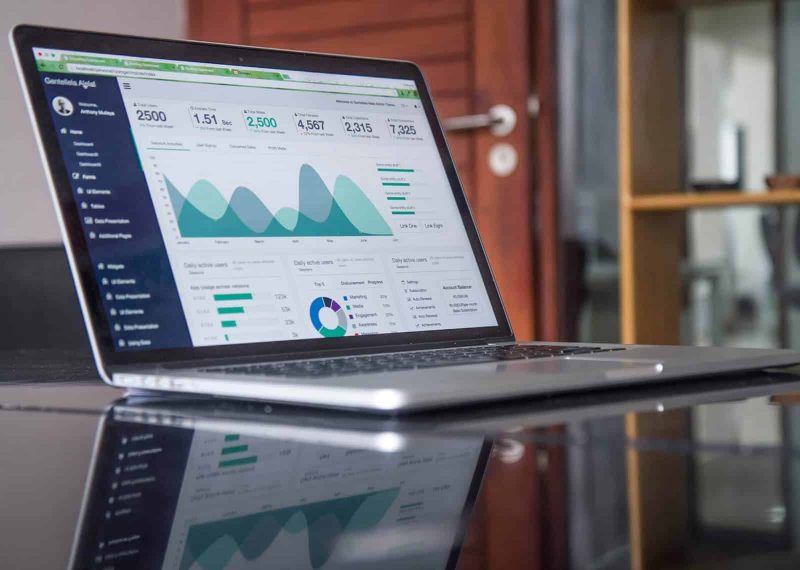 High Accuracy
We use real-time multi-step verification. No historical data used in our email verification online service.
Low Pricing
Not only providing free credits for our customers, we also offer a lower price which is below market price. The more you buy, the lower price you have.
Fast Email Verify
Check email validity of 10k addresses in 5 mins.
Free Email Validation
Free bulk check email list unlimitedly. Monitor from the dashboard.
Comprehensive Analysis Report
After email verification, you will get a comprehensive analysis report of your uploaded list.
Simple List Download
Simply download the list which you need.
How to Use
Email Verifier Online

Easily
---
Step 1
Create a free account on Eamil
Verifier Online.
This is the most important step before
you use Email Verifier Online to bulk
validate your email list.
Note: Our email checking service
is totally free for all.
Create Free Account Now
Step 2
Prepare your bulk email list. Then upload your email list.
Attention:Please use the .CSV format to edit your email list.
Step 3
Go back to ``My Listing``,
And then click the button ``Verify``.
This step will take a little bit time.
Note: 100 email validation ≈ 1 min
Step 4
Download or share your valid bulk email list.
Note: The email validation report has detailed
verification types, such as deliverable,
free account, deliverable with risk...
Get in
touch
---
If you need any help in technic, please feel free to contact Email Verifier Online.