If you are worried about the tight budget of email verification, this article will advise 10 email verifier online tools. From this article, you can learn about every email verifier's free times, verification rate, and other features. Also, this article will show you how to use the bulk email list verification tool. Let's go!
The Best 10 Free Email Verifier in 2021
The best email verifier online services for your information.
Specific Details of Each Email Verifier Online Tool
Following will introduce every email verification service one by one.
Email Verifier Online
Email Verifier Online is the only email verification tool who provides unlimited email validation. It allows each registered account to verify their list without limitations. Users can upload their bulk email list and then get a clean list. Also, it has real-time verification service. It let each user make a test and verify a small number of email addresses. Otherwise, it offers the verification report after the verification finished.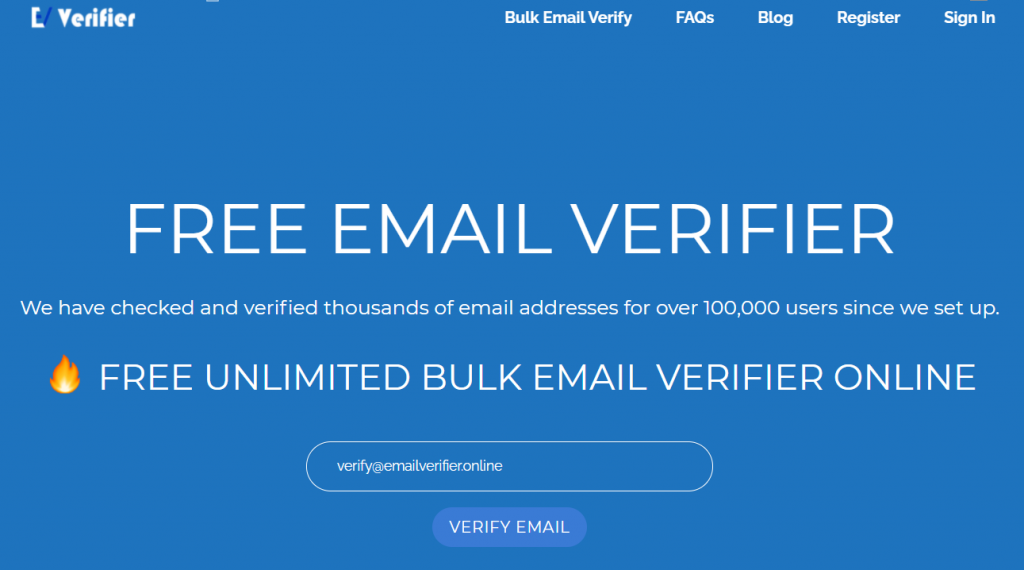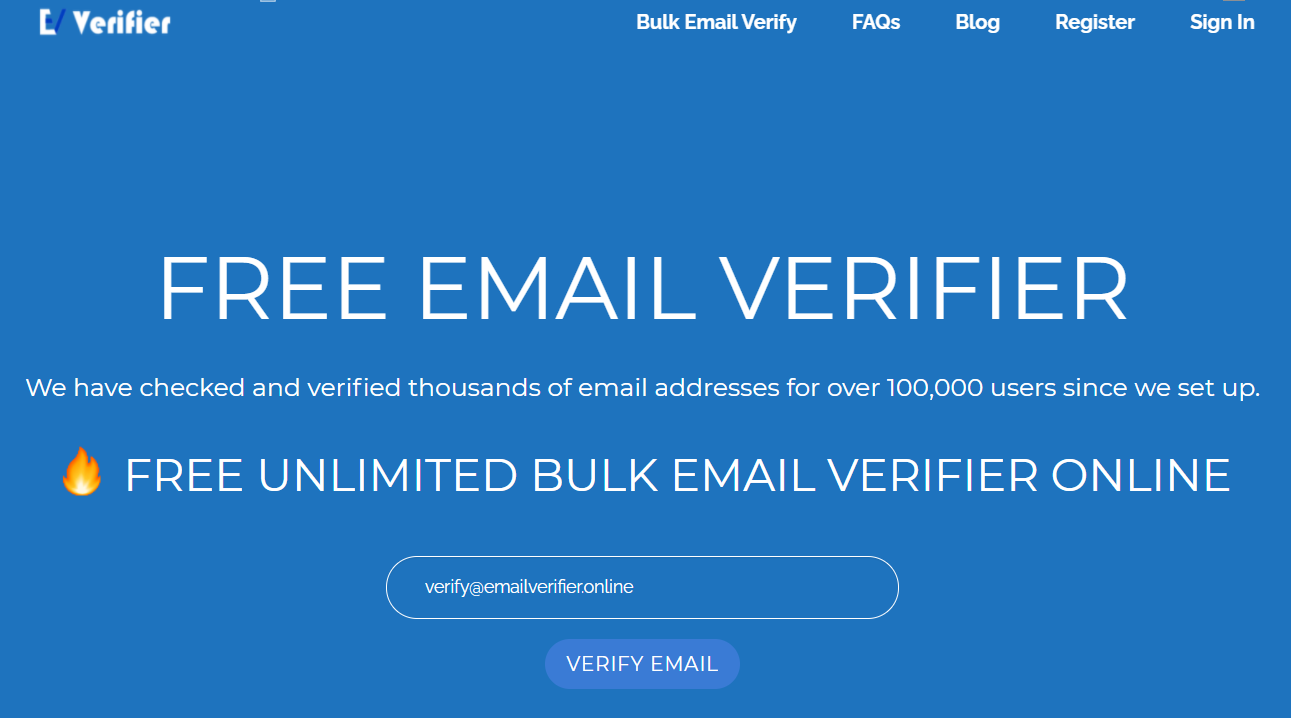 MyEmailVerifier
MyEmailVerifier is the most powerful and reliable bulk email verifier, with considerable integration. And it is the only service provider that offers free verification of 10,000 emails at once. They validate each email through nine check steps and provide a valid or invalid batch at the end. In addition, their comprehensive reports are simplified to understand the results.
DeBounce
Debounce offers unlimited free one-time email verification via API. The entire time, they validate emails with a live list of the latest one-time domains. debounce free email validator plugin easily integrates with all types of WordPress forms to validate emails before they enter your database.
DataValidation
DataValidation is one of the best email verifier online services. It has the most comprehensive API for bulk and real-time email verification. What's more, it can integrate your websites, apps and workflows with DataValidation's powerful email cleaning service.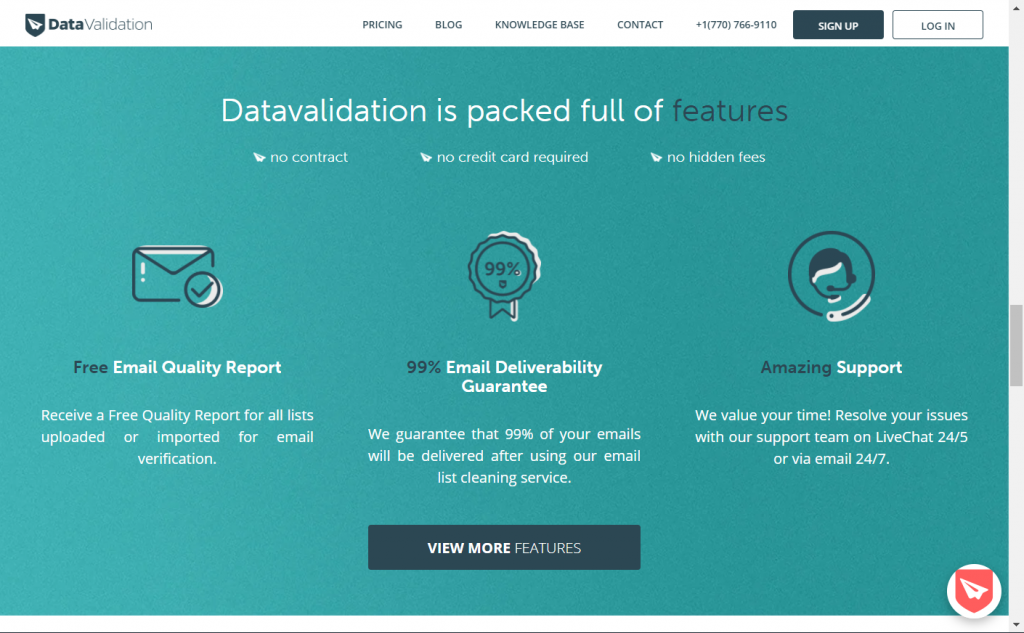 QuickEmailVerification
QuickEmailVerification is one of the best free email verifiers with more than 90,000 satisfied customers on the web.QuickEmailVerification offers 100 free email verification credits per day after registration. With their service, you will be able to improve the quality of your data and engagement with your marketing campaigns. In addition, they integrate with the best ESPs (Email Service Providers) and marketing tools in the industry.
Verifalia
Verifalia offers free verification of 25 emails per day in real time through their API. Their API is proficient enough to validate emails in various places such as APP, web forms, CRM and POS systems. It protects your database from fake emails and spam attacks to protect your real emails.
Clearout
As one of the best free bulk email validators and email verification tools, Clearout guarantees 96% accuracy of results. However, Clearout does not let any type of honey spots, hard bounces and non-valid emails mess up your email deliverability. It provides a real-time email verification service.
NeverBounce
NeverBounce offers free email verification through 1000 emails API. It is the best bulk email verifier that can correct emails from all domains. Moreover, their custom integration facility can help you to verify emails in any part of your application. By using their trial service, you may get an idea about it.
TrueMail
TrueMail uses only real-time multi-step verification. No historical data used in its email verification online service. Check mail addresses with 1000 free credits. Monitor from the dashboard or use integrations.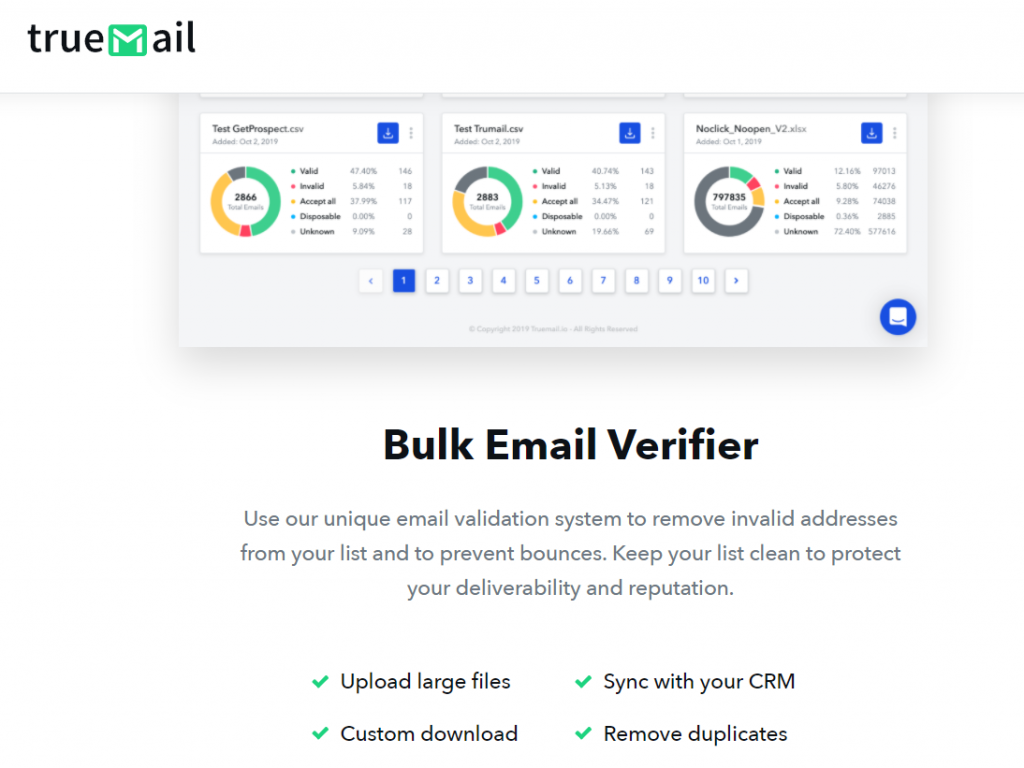 ZeroBounce
ZeroBounce, one of the most innovative free bulk email validators and email verification tools in the online marketing field, prevents bounced emails and maintains your sender's reputation. In addition, it removes non-existent email addresses and misspelled email addresses.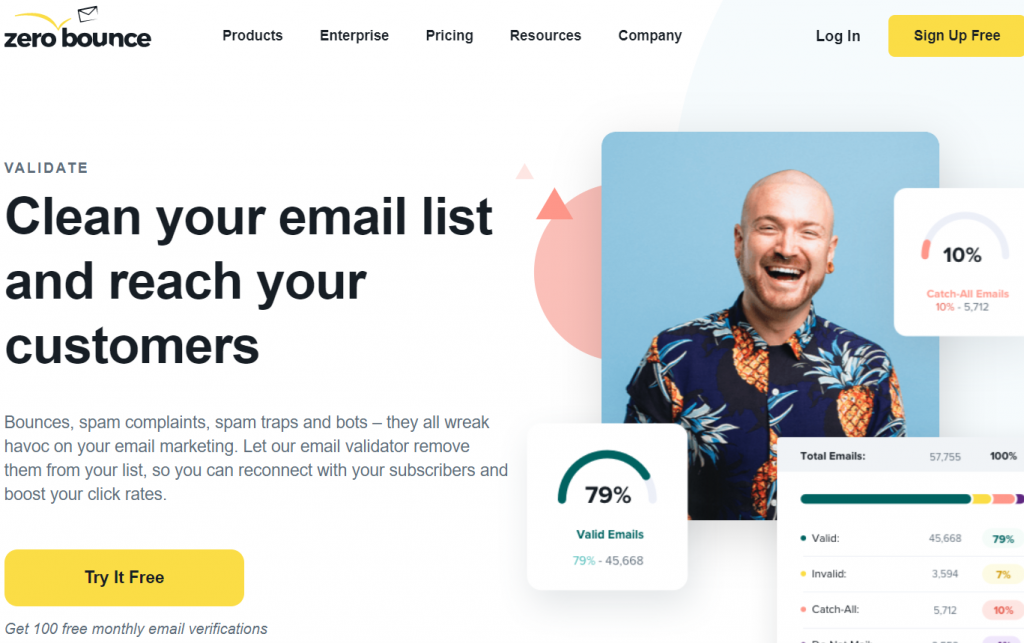 How to use Email Verifier Online
Email Verifier Online is quite easy to use. Only need simple steps and several minutes, then you can have a clean and healthy email list. Let's look at how to use it now.
Step 1 : Create an account at Email Verifier Online.
Step 2: Find the option "Add List",then you can follow the guide to upload your bulk email addresses list.

Step 3: Go to "My Listing", and click the button "Verify". Next, you only need to wait a second.
Step 4: Choose what you need to download.
*Notice: the upload file and download file are both .CSV format file.

In Conclusion
Many of the email verification tools have free trials. Some have more than 1,000 free times, the others at least have 100 free times. Which one you want to choose, depends on your need. But from my side, under a similar verification rate, who has unlimited free email verification times will attract me much. Yep! I mean, Email Verifier Online, is quite good in the email verification industry. Don't you think so?