If you're a marketer in this day and age, you surely know the power of email marketing and email marketing strategy. And all the different emails a marketer can come up with to attract and lead prospects further into the funnel.
But are you sure you've noticed all those emails? Do you know how many different, and honestly, great things you can achieve with triggered emails?
And these go far beyond shopping cart abandonment, even to new content you might like. In fact, they're so numerous that some often go unnoticed.
Some are extremely useful for restocking emails.
Recurring orders means recurring customers.
Most businesses tend to spend a lot of their budget on email marketing strategy that will get them more new customers rather than trying to sell to existing customers.
The truth is that said business can increase sales by simply trying to sell to existing customers first because an already existing customer costs 5% to 25% less than a new customer, which makes them more valuable.
Not to mention, that customer is more likely to convert.
This is where replenishment emails come into play, and by using email marketing software like Moosend and MailChimp, you're on your way to success.
Let's start by defining what a replenishment email is.
Replenishment email is an email sent out to remind people to restock on a certain product. It is an email marketing strategy used by companies that sell goods that can be replenished (hence the name). The goal is to lead prospects further down the sales funnel and convert them to recurring, and therefore loyal, customers.
In theory, replenishment emails should only be sent by companies that can offer some kind of replenishment – some kind of restocking opportunity – related to their product.
The same logic applies to another marketing tip. Loyalty programs.
Restocking emails are a lot like loyalty programs, in the sense that they entice prospects to buy and make logical rather than impulsive (again, in theory) decisions.
Fashion retailers, beauty brands, pet stores, supermarkets, all offer loyalty programs.
Example-"Sephora"
Sephora, for example, has its own loyalty program with its own points system that can actually be redeemed for products from Sephora's own brands.
But Sephora is also using replenishment emails to score sales. Like this: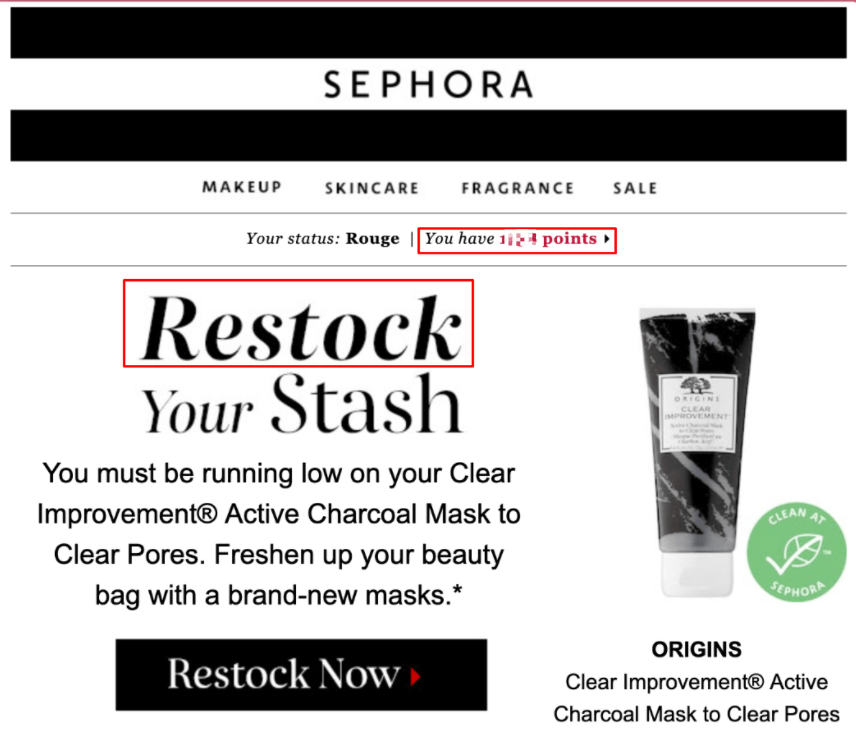 Notice how the replenishment email didn't fail to remind the customer of their points in the first place?
That way, potential buyers know the two basic things the company needs them to remember.
They can use their points and save money on their purchases.
They don't have much left to purchase already.
So, why not reorder?
This way, companies can create recurring customers simply by leveraging what they already need.
How it works and why you should do it
Let me start by saying that replenishment emails can get great open rates, but even better click-through rates. According to a study conducted by Listrak, replenishment emails have an open rate of 10.6%, while their click-through rate is 53.6%.
So, that's why you should segment your list and set it up to send out replenishment emails. They are always sent out at the right time. This means they are always relevant.
Last order info in your replenishment email
Companies have a general idea of the nature of their products and when customers will more or less need to restock them.
As a result, they can easily calculate when a purchase will be made and send out emails in a way that seems natural as if the customer actually asked to receive one of them.
For example, if a customer purchases a specific type of cat food that will last a month, that customer will receive a restock email three weeks later. This email will serve as a reminder that the product needs to be re-purchased as soon as possible.
Of course, as with all things, content is king.
In essence, the replenishment email will be very personalized. It could contain a reminder of the customer's previous order, like this one here.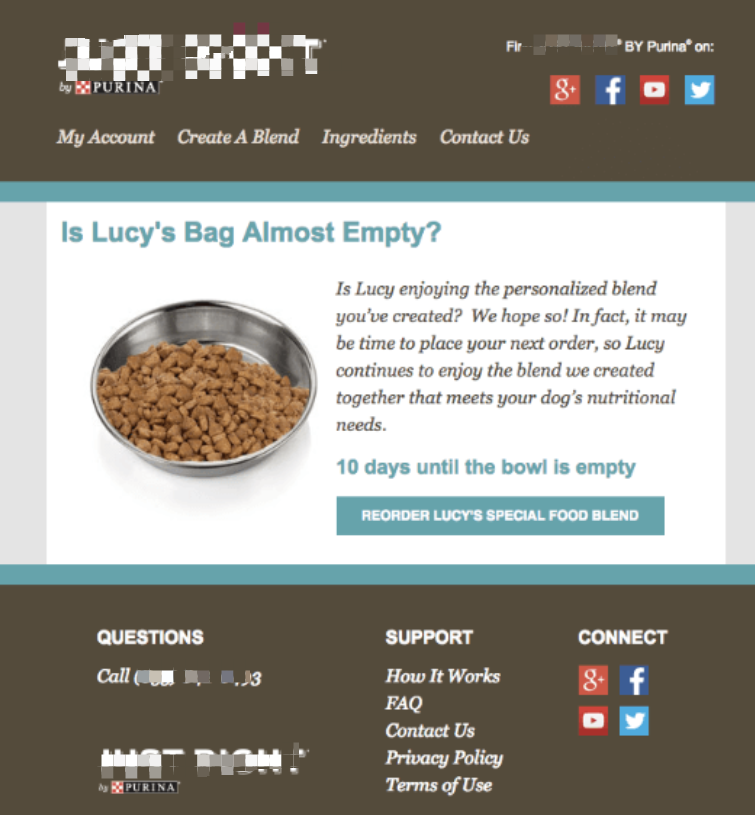 While we can't be sure if "Lucy" is the name of the pet or the customer, we can be sure of what we see here." Just Right" is a program from Purina that sells personalized dog treats.
Pet "parents" can create just the right blend for their dog (hence the name).
As we can see here, we've received a personalized email full of names and a question that needs to be answered: Is the bag almost empty?
Call-to-Action (CTA)
There's also a countdown before the CTA button. The owner only has ten days before the mixture runs out, so it creates a sense of urgency, even if there's not much effort.
Then, there's the CTA, which doesn't have a hard sell but makes a point by pointing out what needs to be done and what makes the product unique.
And of course, the company logo is where the customer can see it and the brand tone is spot on so it doesn't confuse the customer, which isn't ideal.
There's a reminder about the customer's last order and then there are examples that take it up a notch and actually suggest similar items, sometimes even with a nice little discount.
Want to clear your email list before sending a replenishment email?